Skate Park
New skate park opens!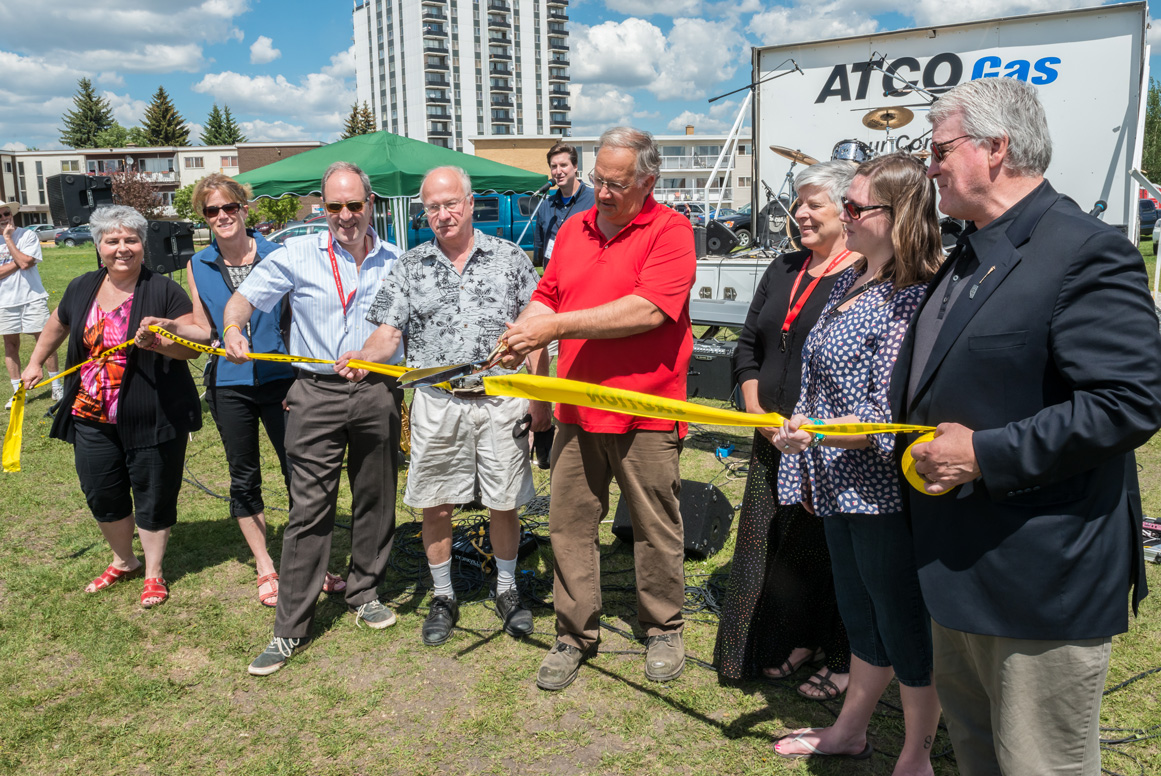 (Last month, South East Voice announced the opening of the new skate park on Terrace Road. This month, we're filling-in some of the details and expressing thanks to those who helped make it happen.)
June 14 dawned sunny and the day turned hot and windy as preparations were made for the official opening of the new Fulton Ravine South Park. The skate park itself was heavily used all morning and throughout the afternoon, as a couple of hundred people gathered for the opening event.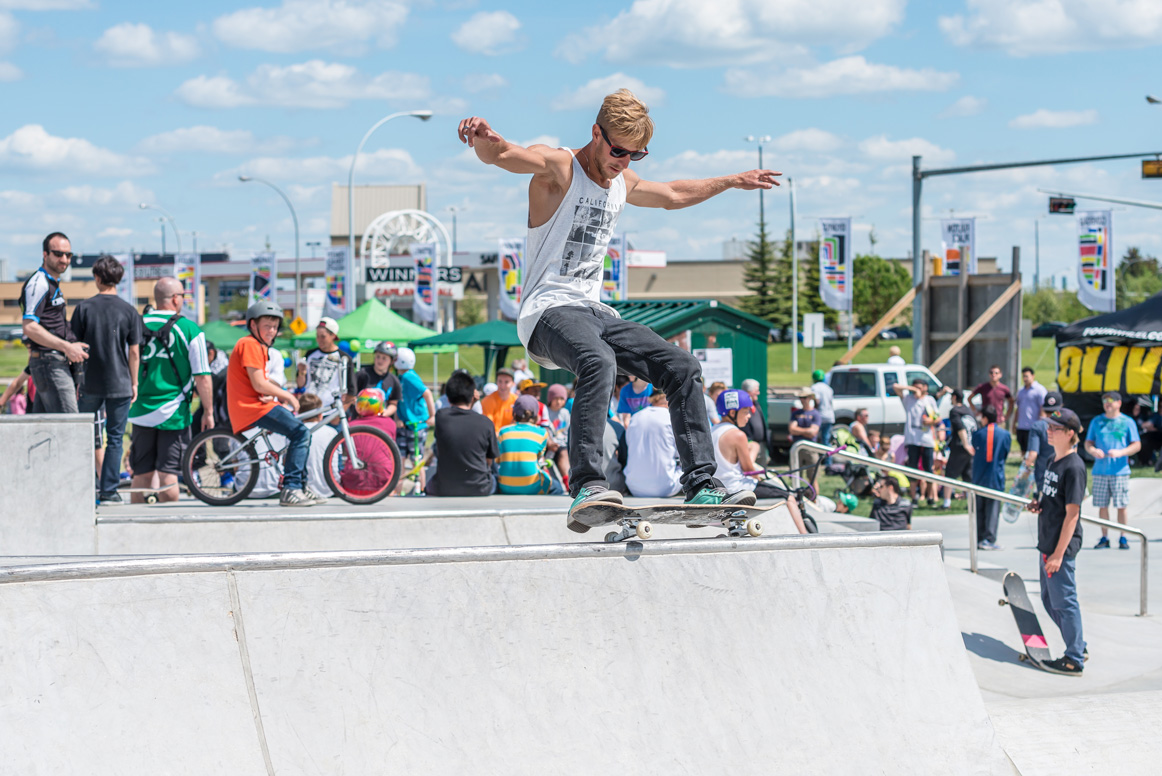 Starting at 1:00 pm, some short announcements and introductions were made by Gavin Martinson, president of the Fulton Place Community League. On hand were Edmonton Gold Bar Member of the Legislative Assembly David Dorward, City Councillor Ben Henderson, and City of Edmonton personnel Debi Anderson, Melanie Gizowski, and Lynn Ferguson. Ottewell Community League president Bob Hutchinson, a long-time booster of the park, also spoke briefly. South East Community Leagues Association (SECLA) president Lori Jeffery-Heaney expressed thanks to the many who made this new park possible.
Following the speeches, four live bands played in succession. A food truck was on hand to provide convenient meals and refreshments.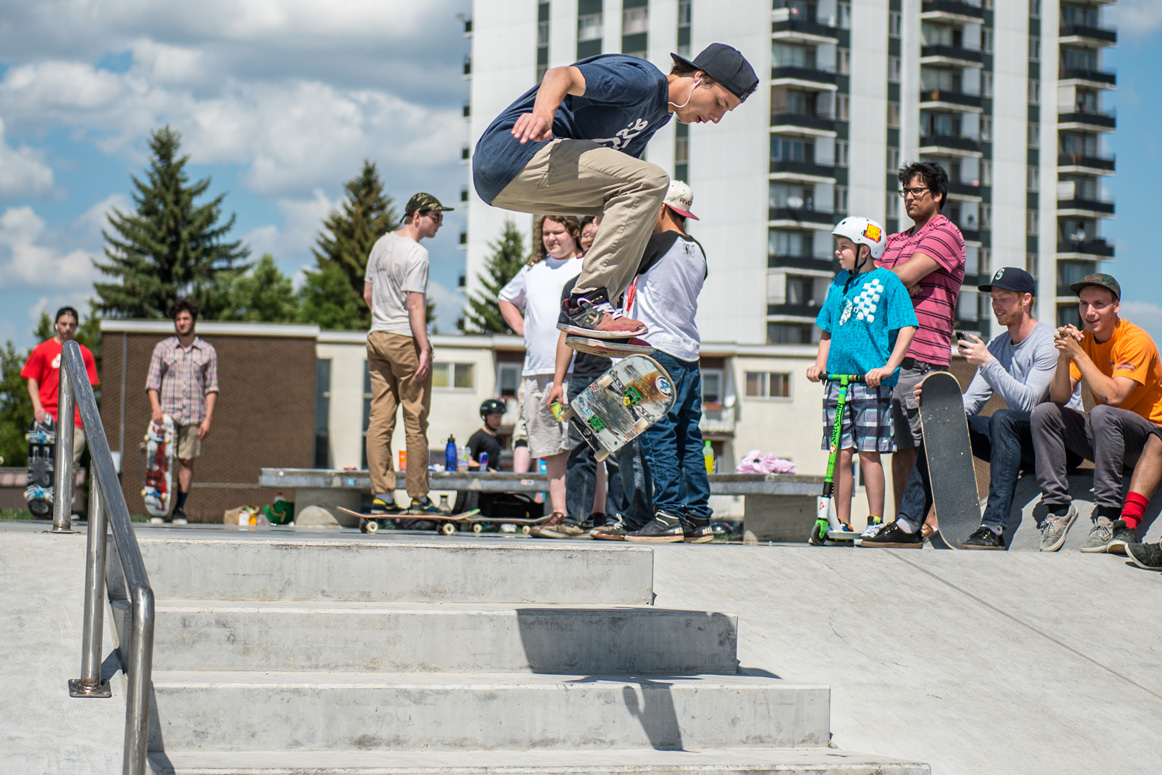 Membership and fundraising tables were manned by the Strathearn, Forest/Terrace Heights, and Kenilworth community leagues. Hardisty School was also selling licorice to raise funds for a student trip.
A questionnaire was available all day. It asked attendees to express opinions about the potential for an art project, which would see the park's concrete structures spray-painted urban-style. A primary purpose would be to forestall the graffiti and tagging that this sort of facility normally attracts. The survey indicated wide support for artwork, although no further action will be taken until at least the end of the most active season at the park, likely in October.
THANKS to the many from SECLA!
Thanks are due to the Province of Alberta for providing Community Facility Enhancement Program (CFEP) funding and to the City of Edmonton for being an effective partner in approving, planning, and constructing this park.
In particular, the following City personnel have been instrumental in making this a reality:
Councillor Ben Henderson for being our advocate on City Council
Community Services department General Manager Linda Cochrane
Debi Anderson, Director - Neighbourhoods, Parks and Community Recreation Southeast for helping us maneuver through the process and coordinate with many City departments
Lynn Ferguson, our current Community Recreation Coordinator for day-to-day help and guidance
Melanie Gizowski, our past Community Recreation Coordinator, who helped us so much in the very beginning and was instrumental in getting us started
Becky Redford, our City of Edmonton Project Manager, who has kept us moving forward with her leadership and determination
Contributions were gratefully received from the following community members:
Armand & Elaine Haine

Sheldon Konasewich

George & Barbara Skaley

Eleanor Griffiths

Mr. & Mrs. Dimitroff

Mr. & Mrs. Papaianni

John & Lil Yakimishyn

Jean and Alex Ursulak

Jill & Greg Schlender

Ms. Deanna Gupta

Bruce & Janice Rennie

Mr and Mrs John Wilson
Bob Hutchinson and Bob Gerlock helped to initiate the dream of a south east Edmonton skate park and have carried it forward through to completion.
A big shout out to Prize Donors!
A few local companies came together and provided awards at our opening day celebrations…
A shout out and thanks to the following for their contributions to a great day!  ??
Caleb Matthews from Four Wheel Co. provided wheels, t-shirts and stickers http://fourwheelco.com/??
Andrew Brown from Riot provided skateboards and t-shirts www.facebook.com/riotskate780 Or www.riotskate.bigcartel.com??
Randy Jesperson/Chad Schultz from Olive skateboards provided skateboards http://oliveskateboards.com/skateboards/?
?It was a collective effort by them to provide some goodies to the skaters who poured their heart and soul into competing. It wouldn't have been the same without some prizes. Thank you so much for being a part of the event! 
Using the new park!
Everyone is welcome to use Fulton Ravine South Park during daylight hours, both active participants and those who just want to come and watch the smooth flow and rhythm of longboards, scooters, and bicycles.
Spend time in the park; walk your dog through the area. "Eyes On The Street" will help ensure good behaviour. Some graffiti has already occurred, which the City is determined to remove.
When visiting the park by car, please be careful to park legally. Although a subsequent phase will include a parking lot, there must be no vehicle parking on the grass within the park area. Neither is parking allowed in the lane on the north edge of the park.
Exciting New Skate Park Opens!
I want to share my excitement about the opening of the brand-new Fulton Ravine South Park in my ward. There are only a few skate parks in all of Edmonton, and this brand new one is already very popular with active citizens of all ages.
The Fulton Ravine South skate park can be seen from Terrace Road and 98 Avenue; some call it the "Capilano" skate park, being on the northwest corner of Capilano Mall.
This free recreational opportunity is open to all wheeled non-motorized users, notably skateboards, bicycles and in-line skates. The concrete construction of the skate park makes it very low maintenance; the design includes many unique features that enhance a continuous flow throughout the park.
This was made possible by funding from the Province, City, from the South East Community Leagues Association (SECLA) as well as private donors. It only came about due to long term and excellent cooperation from many many community volunteers and city staff. The project has been shepherded through many hurdles by the South East Community Leagues Association (SECLA) over several years.  Special mention must go to Bob Hutchinson and Bob Gerlock, as well as SECLA chair Lori Jeffery-Heaney.  Without the dedication and sheer determination of these community volunteers, this special project would not have been possible. My hat goes off to all who had a hand in bringing this fun new opportunity to all Edmontonians.
You can always contact me at phone (780) 496-8146 or at This email address is being protected from spambots. You need JavaScript enabled to view it., and you can follow me on Twitter @Ben-Hen
Ben Henderson, Councillor, Ward 8
Fulton Ravine South Park Celebrates Grand Opening!
Saturday June 14th 2014 marked the Grand Opening of Edmonton's newest skate park locate on Terrace Road adjacent to the Fire Hall and Capilano Mall.  Since the construction fencing came down on June 5th the park has seen a lot of skate boarding activity. Plans are in place to have a City of Edmonton Green Shack on site with programming through the summer. 
We will continue to work on the other elements of the park but are very excited that the skate park portion can be actively used and enjoyed! 
If you are interested in donating to the project, we want you to know that donations over $20 are eligible for a tax receipt! Cheques must be made payable to the City of Edmonton, and must reference the SECLA Fulton Ravine South Park Development project. Cheques can be mailed to
South East Community Leagues Association or SECLAPO Box 38025, RPO CapilanoEdmonton, Alberta T6A 3Y6
A tax receipt will be mailed to you in time to file with your tax return.
Check us out on SkateParkTour.ca!
Our brand new Skate Park has been featured on Skate Park Tour.ca! Go check us out here!
Skate Park Grand Opening!
Please join us at the Fulton Ravine South Park to celebrate the opening of Edmonton's newest skate park located on Terrace road adjacent to Capilano mall, and across the street from Fire Hall #11.
The official opening ceremony will take place at 1:00 pm, with lots going on at the park throughout the afternoon!
SECLA Park Project Update
Winter is upon us now, and work at the park has wrapped up for the season. The skate park is taking shape, and the sidewalk has been poured. A big thank you to Bob Hutchison for all his work at the park to date! We'd also like to say thank you to those who have donated funds to the park project to date. We will continue to raise funds for the park over the winter. If you are interested in donating to the project, we want you to know that donations over $20 are eligible for a tax receipt! Cheques must be made payable to the City of Edmonton, and must reference the SECLA Fulton Ravine South Park Development project. Cheques can be mailed to
South East Community Leagues Association or SECLAPO Box 38025, RPO CapilanoEdmonton, Alberta T6A 3Y6
Donations made in 2013 will have a tax receipt mailed to you in time to file with your tax return. Donations made in the new year will have tax receipts issued for 2014 tax season. 
SECLA Receives CFEP Funding for Park Development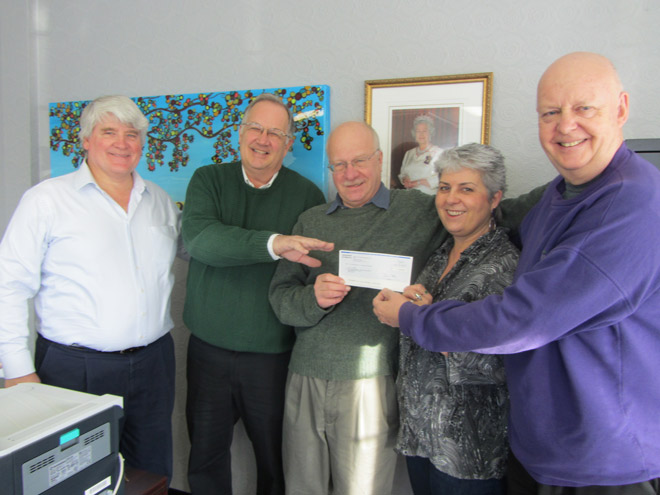 December 21st 2012 was a happy day for SECLA as we received a CFEP Funding cheque in the amount of $125,000 to assist us in the development of Fulton Ravine South park.  On hand to gratefully receive the cheque from MLA David Dorward were (r-l) Bob Hutchison, Bob Gerlock, Lori Jeffery-Heaney and David Liles, from SECLA. 
The Community Facility Enhancement Program provides assistance to improve "people places" in Alberta, and the important services such places provide to Albertans. Community use facilities enrich the quality of family and community life in Alberta, and these funds will help us here in the SECLA region to develop new park facilities for our communities. We are most appreciative of receiving these funds!