Fulton Ravine South Park Survey
Seniors Engagement Event
The City of Edmonton's Zoning Bylaw Team, as a part of the Mature Neighbourhood Overlay Review project, invites you the Seniors Engagement Event.  This consultation is specifically for seniors who live in Edmonton's mature neighbourhoods.  Come and share your opinions.
The Mature Neighbourhood Overlay is a subset of regulations within Edmonton's Zoning Bylaw that controls how new development fits into existing neighbourhoods.  We are reviewing these regulations to provide greater certainty to communities and the development industry, and to ensure that new residential development fits in with the surrounding community in mature neighbourhoods.
The event will occur on June 28th from 1:30 to 3:30PM at the Southeast Edmonton Seniors Association - 9350 - 82 Street NW.  Refreshments will be served.
Please RSVP to Christopher Wilcott, Principal Planner (This email address is being protected from spambots. You need JavaScript enabled to view it. or 780-442-7579) by 430PM, June 24th.  Space is limited to 25 participants.
SouthEast Edmonton Winter Fun Festival
Mill Creek Ravine - Garlic Mustard Pull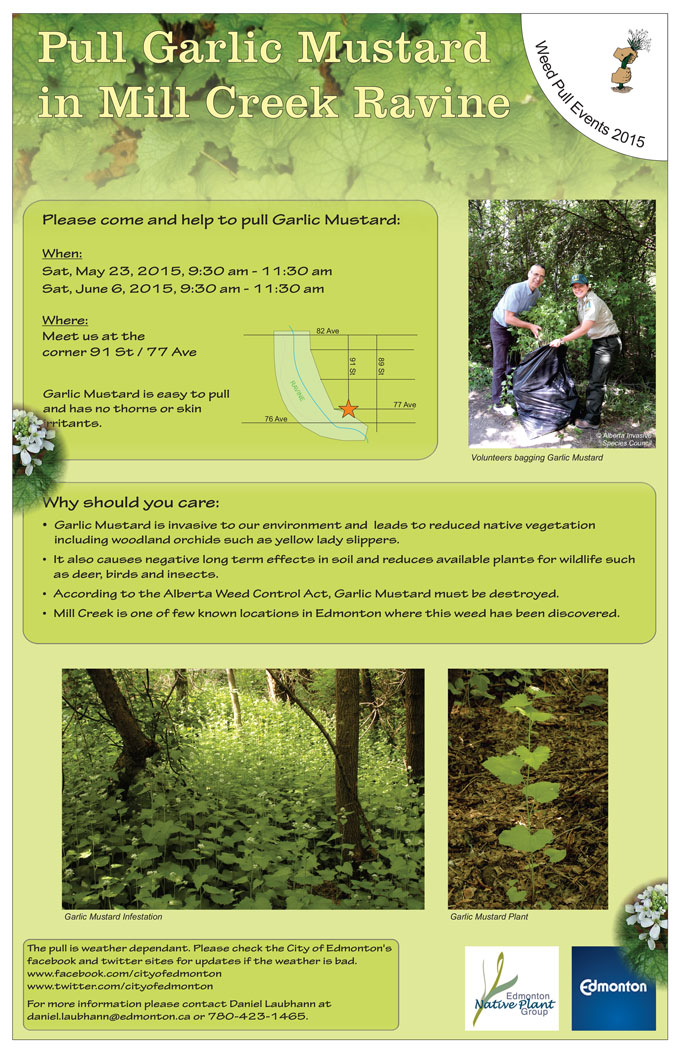 This month's featured programs at the South East libraries
Idylwylde Library, 8310 88 Avenue, 780-496-1808
Star Wars Day. Monday, May 4 at 10:30 and 6:30. The Force will be with the Library as we celebrate Star Wars and reading with stories and activities for the whole family. Wear a costume for even more fun! 
Capilano Library, 201 Capilano Mall (5004 98 Avenue), 780-496-1802
iPad Fun! For Beginners. Fridays, May 1 and May 29 at 1:30 p.m. Is the iPad right for you? Want to try before you buy? Already have an iPad but not sure what to do next? Come to iPad Fun! for Beginners to learn more. From basic features and how-to tips to finding apps you'll love, we'll share what the iPad has to offer and answer your questions along the way. Bring your own iPad or try out one of ours at the session.
Navigating the Rivers of Grief – Bereavement Support Series. Tuesdays, May 5 – June 23 at 6:30 p.m.
This seven-week support series is a structured support group that includes sharing, reviewing the grief process, understanding emotions and self-esteem needs, discussing transformation and answering the question "Where do I go from here?" Participants are asked to commit to the entire series and to be willing to discuss their own loss within the group setting. Call Michael Yankowski, the registered social worker listed with the Edmonton Healing Centre for Grief and Loss, at 780-454-1194 Extension 224 to register.
Your EPL card gives you access to thousands of FREE digital movies and music through our website. Hollywood classics, today's top movies and millions of songs can be streamed right to any device. See http://www.epl.ca/awardwinners for more details.
Fruits of Sherbrooke
Walking around our 60 year old neighbourhood we recognized that a lot of good fruit was falling to the ground and being wasted.  We decided to collect fruit such as rhubarb, raspberries, cherries, pears, and apples that were not being used by homeowners.   We are a not-for-profit society with the mission of connecting this wonderful local resource with those who will use it.  We make jams, jellies, sauces and condiments that are 60 – 100% "rescued" fruit;  we teach preserving courses so people can make their own;  we connect homes with excess fruit to those who want to pick for themselves; and fruit that is excess to the above sources goes to local charities, group homes, community kitchens, small food banks and anyone else who will use it (at no charge).  In 2014 we redirected about 15,000 kg apples and this is just a small portion of the apple trees in our city.    
If you have fruit in your yard that is excess to your needs or you are unable to do the work yourself, here are a couple of options to consider.?
1.  Tell your neighbours about the fruit and invite them to come and pick.  You can arrange with them to leave you a portion in return for your sharing.
2.  Call us at 780-244-0129 and we will let you know about coming to pick ourselves.  Please note that apples are so abundant that we often cannot pick – but if you drop them off at our kitchen we will make sure they go to someone who will use them.
?3.  If you don't want others in your yard give us a call.  We will tell you where and when you can drop off the fruit or we can arrange for a pick up.  
Call us at 780-244-0129 if you want to be a volunteer picker, know of a place that would use some of this free local fruit, or have other questions or comments.  
There is a lot more to our story, so please check out the website at www.fruitsofsherbrooke.ca  
South East Bike Safety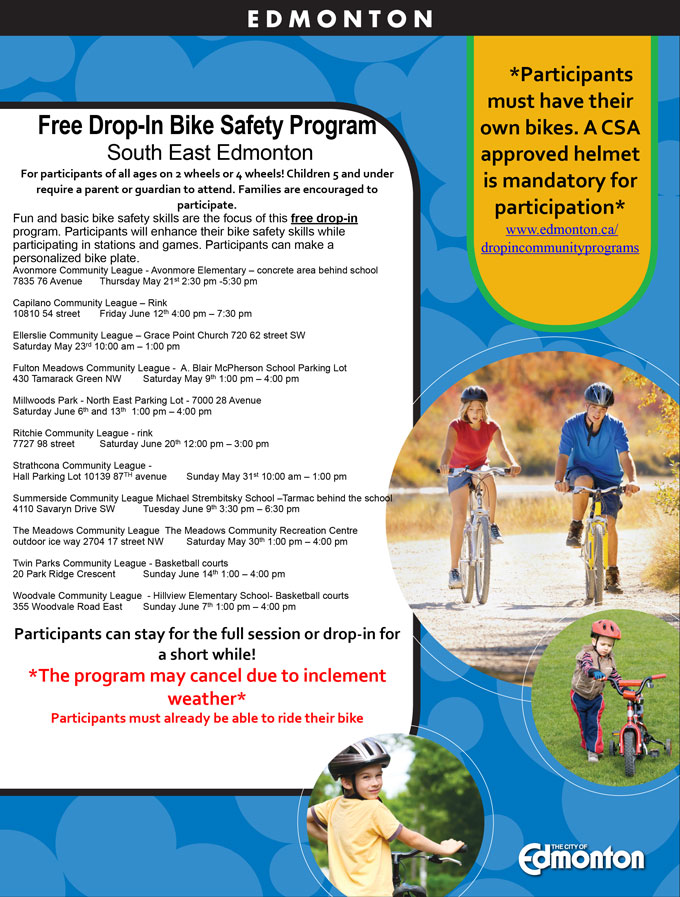 Fun at Churchill Square on January 30 – Come Join Us!
Nearly five years ago, a committed group of citizens, including myself, came together to begin work on a Winter City Strategy for Edmonton. This strategy was designed to find way to take advantage of our northerness, to change the way we think about winter and to transform Edmonton into a more inviting, vibrant and prosperous city.
In developing this strategy there was a sense among everyone that it's our place as a winter city that shapes our character as Edmontonians – our resilient spirit, our "can-do" attitude and even at times our sense of humour. So why not celebrate it?
And so as part of our Winter City Strategy on Friday, January 30, Edmonton will kick off the first Winter Shake-Up Festival and Market, an outdoor party for all Edmontonians. Taking place at Churchill Square from noon to 8 p.m., there'll be singers, dancers, DJs, a children's play area, a snow slide, skating, hot chocolate and more. There will even an outdoor winter market with 35 local vendors. And then just after dark Churchill Square will be lit up like never before with a 20-foot light installation.
The Winter Shake-Up Festival is also the culmination of the International Winter Cities Shake-Up Conference. Edmonton is proud to host this prestigious conference where representatives from winter cities from around the world will gather to discuss new ways to plan, design, live, work and play in northern cities. 
I encourage all Edmontonians to come out and enjoy all the festivities and most importantly to embrace all the great things this season has to offer. There are many wonderful winter events that have a long history in our city – Deep Freeze: A Byzantine Winter Festival, Ice on Whyte, Canadian Birkebeiner Ski Festival and Silver Skate Festival to name just a few. We've been celebrating our many winter blessings for years but now we're shaking things up even more! For more information on the Winter Shake-Up Festival and all the fun things to do this winter, please visit edmonton.ca/wintercitystrategy. Please feel free to contact me at This email address is being protected from spambots. You need JavaScript enabled to view it., call me at 780-496-8146, or follow me on Twitter, @ben_hen.
Capilano Library Relocation
*** Letter from Ben Henderson
I am pleased to announce that, in the City's Capital Budget for 2015-2018, City Council has allocated funds for relocation of the Capilano library.  There are a number of shortcomings where it is on the second floor of the Capilano Shopping Centre; the new library will have a standalone location along 67th street south of 101st avenue.
The current Capilano Branch was last renovated in 1999 and its current location has left it hard to find and even more difficult to access, only being accessible by elevator (often out of order) or steep side stairs.
??Although population projections indicate that the Capilano catchment area (the neighbourhoods of Capilano, Forest Heights, Fulton Place, Gold Bar, Ottewell and Terrace Heights) will remain fairly stable over the next 20 years, the new location will dramatically improve access and visibility which are important parts of a functional library.?
This new library will be located along 67 Street and south of 101 Avenue as a 10,000 sq. ft. standalone facility which will provide improved functionality by providing additional space for quiet study as well as better technological resources that will better meet community needs. Additionally the new library will have a larger community meeting room space. There has been much demand for a better space in the current library, but the facilities have not been equipped to meet that demand.  This budget allocation of $11.5 million will remedy these shortcomings.
??The schematics for the new library will be completed by the end of this year, 2014. This coming year, 2015, will see the land purchased and detailed design being finalized. Between 2016 and 2017 the library will be constructed and outfitted with furniture and equipment. You can learn more at www.epl.ca
??Please feel free to contact me anytime at This email address is being protected from spambots. You need JavaScript enabled to view it. or at 780.496.8146. Follow me on Twitter @ben_hen
Crosswalks and Pedestrian Safety
Cllr. Henderson - August 2014
Crosswalks and pedestrian safety has been a hot issue this season. With the unfortunate accidents of Jasper & 119 St, as well as 95 Ave in Strathearn, it is clear that we must do more to create a conducive environment for both pedestrians and drivers alike.  These issues are exceptionally apparent in Ward 8 with the high number of pedestrians, and it is a situation that I intend to improve. 
The Transportation Association of Canada's (TAC) Pedestrian Crossing Control Guide acts as a guideline for local governments to uniformly implement marked and signed crosswalks throughout the country. The guide considers the posted speed limit, cross section of the roadway, distance to the nearest alternate crossing, number and types of pedestrians, and vehicular volume, as indicators for the type of crosswalk to be installed. While these measurements are helpful, the trouble is that they do not take into account other things that are not as easy to measure. 
There have been some problematic intersections that local residents have repeatedly raised concern over. In the past, we haven't done much as the argument was they fit within the TAC standards. I strongly feel that we need to do better; go beyond the standards when the need calls, and incorporate residents' knowledge into the mix.
Moving forward, Transportation Services will be assessing the major pedestrian corridors of Whyte Ave, 109 St, 104 Ave and Jasper Ave, and will be considering upgrades to older marked and signed crosswalks through these areas. 
From a community side, we have grassroots work happening in Queen Alexandra through the coordination of QA Crossroads. The community will be undergoing neighbourhood renewal next year and the group is advocating that following rehabilitation, Queen Alexandra should have gone through more than just a facelift. This is an opportunity to make sure that the infrastructure is conducive for all modes of transportation, making it a more walkable, bikable, livable and safe neighbourhood for all. 
Feel free to contact me at This email address is being protected from spambots. You need JavaScript enabled to view it., call me at 780 496 8146, or follow me on Twitter, @ben_hen.
A Newcomers Guide to SECLA
Rob McDonald
Kenilworth Community League
I moved to south east Edmonton from Old Strathcona about a year and a half ago. To continue my long-running civic work, I sought out the local community league. I am now representing Kenilworth at SECLA.
What is SECLA, the South East Community Leagues Association? It's an area council that includes eleven south east Edmonton community leagues. The organization's primary activity is a monthly meeting of representatives from the member leagues. SECLA also hosts a casino every two years. In collaboration with Calder Publications, we produce ten issues per year of the South East Voice.
Edmonton: The Musical!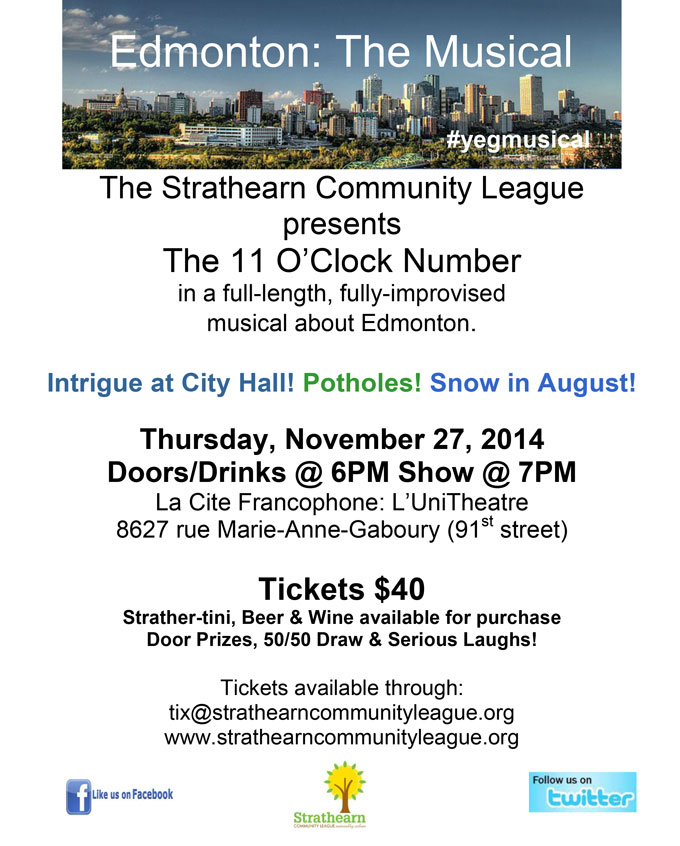 Art Walk
It's 2 am. Do you know where your car is?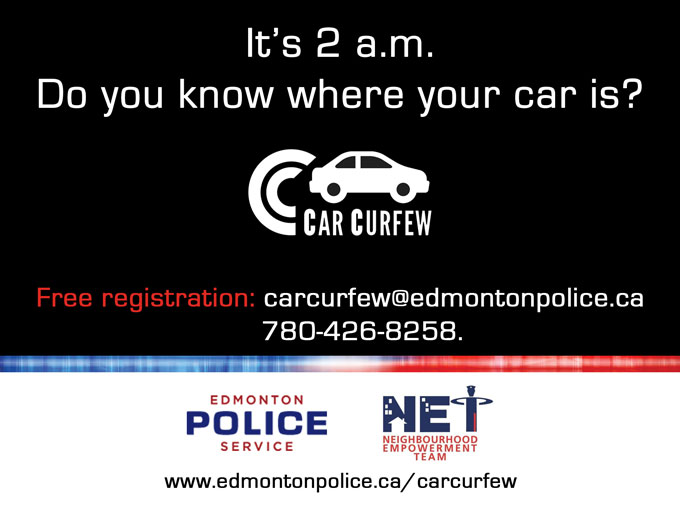 Car Curfew Pilot Program
In 2013, close to 3500 vehicles were reported stolen in the City of Edmonton. To address this growing problem, Southeast Division is piloting the "Car Curfew Program." Beginning June 15, 2014 and ending January 31, 2015, the program aims to prevent vehicle theft and aid patrol members in identifying a potentially stolen vehicle.
The "Car Curfew Program" is a free, voluntary pilot program. Vehicles enrolled in the program receive decals, which are placed on the rear windshield of the vehicle. If a police officer witnesses the vehicle in operation between 1:00 a.m. and 5:00 a.m., they may stop the vehicle and verify that the vehicle is being operated with the consent of the owner.
This program is designed to draw the attention of police officers to vehicles not normally operated between 1:00 a.m. and 5:00 a.m.
The goal is to rapidly draw the attention of police officers to potentially stolen vehicles.
Police officers encountering a vehicle displaying a "Car Curfew Program" reflective decal (in the lower left side of the back windshield) operated during this time frame may stop that vehicle.
Display of a "Car Curfew Program" decal does not impact the legal rights or duties of vehicle drivers or owners.
If a vehicle enrolled in the "Car Curfew Program" is stopped, police officers must be able to contact the owner.
To register for this free program email This email address is being protected from spambots. You need JavaScript enabled to view it. or call 780-426-8258.
Edmonton Public Library
The Edmonton Public Library has something for everyone and we love to share. As the American Library Association's Library of the Year for 2014, EPL prides itself on access for all Edmontonians. Whether you are in a library branch or at home there are millions of items to access through the Edmonton Public Library website and our great apps, including EPL Mobile. 
EPL is working hard to give everyone in Edmonton a FREE library card and through the Welcome Baby program every child under 24 months who gets a library card also receives a board book and other great resources. Come in to any library branch to get the best deal in town!
The Capilano branch library is located on the second floor of the Capilano Mall. With open access from the transit station, and mall construction nearing completion, the Capilano library is becoming a destination location for the community. There is a program for everyone at the Capilano library, from Baby Laptime to iPad fun for Beginners. Some featured programs include:
NEW – Baby Laptime: Wednesdays at 1:30pm, starting September 10th
Sing Sign Laugh and Learn: Tuesday, Wednesday, and Saturday at 10:30am- ongoing drop-in
Tween Lounge: Thursdays at 4pm – ongoing drop-in 
iPad fun for Beginners: August 22nd and September 26th at 1:30pm – drop-in
NFB Film Club: August 11th (Fox and Chickadee – a Family special) and September 8th (The Wings of Johnny May) at 6:30pm – Free popcorn or popsicles at this event
For more information please contact the Capilano branch at (780) 496-1802 or go to our website - epl.ca
SECLA Sponsors Community League Table at the French Quarter Farmers' Market
At its May meeting SECLA agreed to sponsor a table at the French Quarter Farmers' Market on behalf of its 11 member community leagues.  
Every Sunday from 12 - 4 all summer long a SECLA member community league will be represented at the Farmers' Market. 
SECLA is pleased to be able to offer this sponsorship that will enable its member community leagues to sell memberships, promote league events, sell fundraising materials and raise interest in league campaigns. 
Don't miss out on this great opportunity to see what our SECLA communities are up to! Stop by the Market at 8627 rue Marie-Anne-Gaboury (91Street) and visit the community league table and connect with your neighbours from the broader South East community, all while taking the opportunity to "live local".
SECLA Casino Needs Volunteers
SECLA's casino is Thursday and Friday August 7th and 8th and we could use some volunteers to help us out!  Do you enjoy reading the Southeast Voice? Do you or your child like the new skate park? Funds from our casino help offset costs associated with the delivery of the Southeast Voice and development of the park, among other community based initiatives that SECLA supports. 
Our casino will be at Casino Edmonton on Argyll Road, and we need to fill positions for both day and evening on the two days. It's a great opportunity to help us help build our SECLA communities and an opportunity to meet friends and neighbours from within our communities. Experience is not required, and we will be sure to take good care of you while you volunteer with us. 
If you can help out, email me at This email address is being protected from spambots. You need JavaScript enabled to view it. (or call me at 780.909.7249) and let me know which day would work better for you and whether you would prefer a day or evening shift. Your help will be invaluable in helping us continue to work on initiatives that benefit our SECLA communities! 
Lori Jeffery-Heaney
Edmonton Food Council presents... Community Gardens: A panel discussion
Date
: Tuesday, June 24 
Time
: 6:00 to 8:30 p.m.Paddock Theatre, Northlands Park7140 Borden Park Road
This is the first event of an ongoing series focused on food and urban agriculture issues that matter to the community. 
We want to hear from people who have had good experiences and challenges with starting up community gardens to shine light on the current process and explore ways to make it better.
For more information contact Hani Quan at This email address is being protected from spambots. You need JavaScript enabled to view it. or 780-944-0111.
New Data Reveals How Our Children are Developing
Imagine a group photo of more than 70,000 Albertan four to seven year-olds!  Now, zoom in on Edmonton and then focus on the children in southeast Edmonton.  What do they look like?
From 2009 to 2013, the Alberta Government funded the Early Childhood Development Mapping Project (ECMap) in which kindergarten teachers across the province assessed thousands of students' physical health and well-being, social competence, emotional maturity, language, thinking, and communication skills and general knowledge.
ECMap has just released comprehensive baseline data about these children for Alberta overall, as well as for the city of Edmonton and the southeast area of the city, enabling us to compare them with Canadian development benchmarks. 
These data show that by kindergarten, about 52% of those living in Southeast Edmonton are developing appropriately in all five areas assessed compared to 43% of those in Edmonton overall, and 46% of those across the province.  
Nearly 26% of children in Southeast Edmonton are experiencing great difficulty in one or more areas of development, compared to 32.7% in Edmonton, 29% in Alberta and 25.4% across Canada. Such information tells us we need to consider how we can ensure a larger number of our young children experience greater growth by paying great attention to how our communities can support them from birth to kindergarten. This is so important because the first five years of children's lives are critical to their healthy development, success in school, ability to become productive members of society, and even to their life-long physical and emotional well-being.
As part of the ECMap project, seven volunteer early childhood development coalitions have formed across the city. They include parents, educators, health providers, librarians, child care providers, and other community partners.  Their mission is to mobilize community resources to support early childhood development from birth.
You can find details about the data for Edmonton and each of the seven geographic areas of the city at www.earlychildhoodedm.ca. Click on the map for the Southeast Edmonton Early Childhood Community Coalition to see results on our children.
We all have a role to play to support our children and ensure that all have opportunities to develop to their full potential. We invite you to work with us on issues such as raising community awareness, encouraging neighbourhood businesses to be more child-friendly, and ensuring that neighbourhood parks provide quality spaces for toddlers. 
Please join us at the next meeting of the Southeast Edmonton Early Childhood Community Coalition, Monday, May 26 from 7:00 – 9:00 p.m. at St. Anthony Meeting Centre 10425 – 84 Avenue, Edmonton (Room 4) to learn more about this data and its impact.
For more information, please contact: Lana Brenneis at This email address is being protected from spambots. You need JavaScript enabled to view it..
Leaders in Training: Are you a youth looking for a great Volunteering opportunity?
The Leaders in Training (LIT) program is designed to offer youth ages 13 to 17 years old an opportunity to gain leadership skills and valuable volunteer experience in a fun & electrifying environment with the City of Edmonton at local playgrounds or day camps.
Leaders in Training get the opportunity to share their talents and skills with children of all ages. A day in the life of a playground LIT could include teaching games and sports, crafts and songs to children in a unique, fun-filled outdoor environment.
For more information go to the City website and enter "Leaders In Training"